Lisa Schneider, Executive Director
Lisa has been a member of the Rockdale Temple family for over 20 years. During this time, you may have met her while she served in many volunteer capacities, such as President of the Women of Rockdale, the Temple Board of Directors, the Religious School Committee, the Kulanu Board (now Shelanu, the Cincinnati Reform Jewish High School) and many more.
For the past six years Lisa worked at Ohio Valley Goodwill Industries as the Assistant Director of Developmental Disability Services.
---
Sean O'Brien, Senior Accountant
Sean joined the Rockdale staff as our Accountant in July 2005. He has more than 20 years of non-profit accounting experience in small and medium-sized non-profit organizations. Sean received a BS in accounting from The Ohio State University (Go Bucks!). During his childhood, Sean lived in Australia for four years. In his free time, he likes to hike, bike, do yoga, and travel.
---
Elyse Krause, Engagement Professional
Elyse Krause, a Cincinnati native, is thrilled to join the Rockdale Temple family. She was part of this year's LEAD (Lead, Educate, Act and Develop) cohort sponsored by the Jewish Federation. From LEAD, she connected with the Jewish Community Relations Council (JCRC), and then joined the Reproductive Freedom Campaign. That campaign kick-started her relationship with Rockdale, and she loves what she's seen and experienced so far. She looks forward to collaborating on many more social justice projects, as well as getting involved in the full spectrum of Temple life. When Elyse isn't working, you can find her relaxing on her balcony with a set of knitting needles and her fur baby, Chickadee. Her 9-year-old boxer mix keeps her laughing with all her antics!
---
Jennifer Weinberger, Executive Assistant
jweinberger@rockdaletemple.org
Jennifer is excited to join the Rockdale family as the new Executive Assistant. This is a return of sorts, as she attended preschool here at Rockdale! Jennifer was born in Miami, Florida, but grew up in nearby Blue Ash. She briefly returned to Florida during college to fulfill her passion as a Disney fan by working at Walt Disney World before graduating from the University of Central Florida. Post-college, she has spent her professional career working as a teacher at various local Jewish organizations. During her free time, Jennifer likes to read, go to concerts, work on puzzles, and is an avid lover of musical theater.
---
Patty Kaufman, Office & Communications Coordinator
Patty has been our Office & Communications Coordinator since December 2015. Prior to coming to Rockdale, she worked for a church for nine years. Patty's professional experience is in information systems and marketing. She is happily married with two children. She does a lot of volunteer work and outreach projects for schools and churches. Patty enjoys spending time with family and friends, listening to music, cheering on the Bengals, FC Cincinnati, & the Reds, and attending her kids' sporting events.
---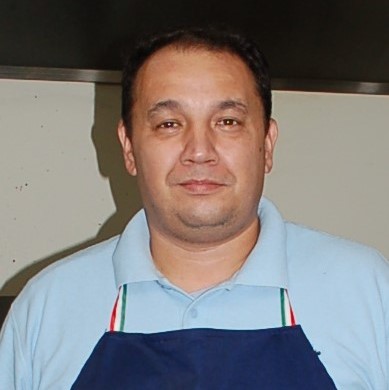 Andrey Azirbayev, Facility & Events Manager
Andrey joined our team March 2021. He grew up in Kazakhstan where he started learning different cooking styles. Although he has a degree in finance and accounting, his love of cooking took him to restaurant management and eventually brought him to Rockdale. He has a love of cooking in many different styles and cuisines. In Andrey's spare time, he loves to spend time with his family, especially his granddaughter. He also likes to garden and travel.
---
Warren Raglin, Building & Grounds Associate
The office's resident prankster, Warren has been a backbone of Rockdale's B&G team for more than five years. As a former retail manager, Warren lends his incredible breadth of talent wherever it may be needed. Undoubtedly the handiest of the B&G team, Warren can often be found with a drill and a ladder, always climbing in to the hardest-to-reach spots. When not at work, Warren loves to play piano and drums. He can often be heard in the chapel dreaming up new melodies while on his breaks. Ask him his number one love, though, and he'll say his family. A husband and father to four wonderful children, Warren can't wait to show off the latest video, beaming with pride, of his son running the football or his daughter doing backflips. Any mention of Warren would be remiss without mention for his love of his hometown team – he is constantly asking everyone "Who Dey" during this exciting run for the Bengals!
---
Noah Smilg
, Building & Grounds Associate
Noah is a graduate of Sycamore High School where he was the recipient of the Hero Award from the Lovis Foundation. In the past Noah has worked as a Kennel Tech for Warren County Animal Shelter and an Administrative Assistant at Northern Hills Synagogue. As someone who enjoys giving back to his community, Noah has volunteered as a teacher assistant and peer mentor, as well as a "cat companion" for the animal shelter. Playing video games, reading Manga (comics and graphic novels originating from Japan), and watching anime (an animation style also originating from Japan) are some of Noah's favorite things to do in his free time. Learning Japanese is a future goal of Noah's, and as a sushi connoisseur he will be happy to give you a recommendation to his favorite restaurant!
---
Mon, December 11 2023
28 Kislev 5784
Mon, December 11 2023 28 Kislev 5784