David Solomon, Executive Director
David joined the Rockdale staff in May 2021. He has 12 years of nonprofit experience including 10 in the Cincinnati Jewish Community. David received a BA in Sociology from The Ohio State University and an MPA in Nonprofit Management from Northern Kentucky University. David grew up as a member of Rockdale. He enjoys spending time with his wife and their dog, sports and fitness, reading, and learning new things.
---
Sean O'Brien, Senior Accountant
Sean joined the Rockdale staff as our Accountant in July 2005. He has more than 20 years of non-profit accounting experience in small and medium-sized non-profit organizations. Sean received a BS in accounting from The Ohio State University (Go Bucks!). During his childhood, Sean lived in Australia for four years. In his free time, he likes to hike, bike, do yoga, and travel.
---
Paige Adkins, Executive Assistant
Paige became our Executive Assistant in March 2019. She is a graduate of the School for Creative and Performing Arts, born and raised in the Greater Cincinnati Area. She has a background in music, creative writing and design. During her free time, Paige enjoys reading, writing, listening and creating music, comic books and spending time with her adorable dog, Bella (and family occasionally).
---
Patty Kaufman, Office & Communications Coordinator
Patty has been our Office & Communications Coordinator since December 2015. Prior to coming to Rockdale, she worked for a church for nine years. She has a background in information systems and marketing. Patty is happily married with two children. She does a lot of volunteer work and outreach projects for schools and churches. In her free time, Patty enjoys spending time with family and friends, listening to music, cheering on FC Cincinnati, and attending her kids' sporting events.
---
Scott Larsen, Operations & Events Manager
Originally from Milwaukee, WI, Scott is happy to be returning to the Midwest with his wife Caitlin Brazner, a fifth-year rabbinical/education student at HUC-JIR. Scott has a history of operations and customer service work that has taken him from Shake Shack to Target to URJ Camp Harlam in the Poconos. Scott is excited to put down roots in Cincinnati with Caitlin and their dog Pig after spending time in Washington, D.C., Baltimore, and rural Pennsylvania.
---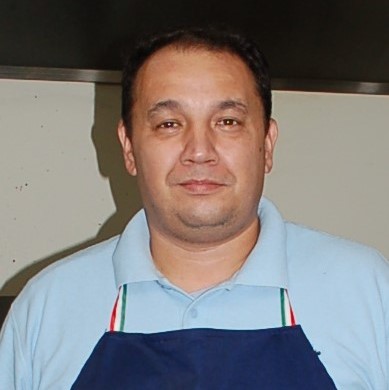 Andrey Azirbayev, Kitchen Supervisor
Andrey joined our team March 2021. He grew up in Kazakhstan where he started learning different cooking styles. Although he has a degree in finance and accounting, his love of cooking took him to restaurant management and eventually brought him to Rockdale. He has a love of cooking in many different styles and cuisines. In Andrey's spare time, he loves to spend time with his family, especially his granddaughter. He loves to garden and travel.
---
Warren Raglin, Building & Grounds Associate
Warren Raglin grew up in Woodlawn, Ohio and was a star athlete in track at Princeton High School. Warren has a degree in criminal justice and is proficient in playing drums and piano. Warren brings his experience in retail management to his work at Rockdale Temple and has a saavy for organizing and creating efficiency in work spaces. Warren and his wife Asha have four beautiful and loving children. A lover of sports, Warren cheers for the Cleveland Cavaliers and Cincinnati's hometown teams. Cincinnati Proud! Go Bengals! Go Reds!
---
Carolyn Baker, Building & Grounds Associate
Carolyn Baker has lived her entire life in Blanchester, Ohio., and has been a part of the Rockdale Temple team for over ten years. Before Rockdale, Carolyn worked as a caterer for Zeh's Catering in Montgomery, Ohio. She is mother to five adult children, two stepchildren, and twelve grandchildren. When she's not decorating banquet tables and arranging beautiful food displays at Rockdale Temple events, she spends time with her grandchildren; "I have pleasure of babysitting them—they keep me young!"
---
Ezra Plymesser, Building & Grounds Associate
Ezra grew up in Northern Kentucky, attending Highlands High School and University of Cincinnati. He grew up in the local Jewish community and has worked at both Adath Israel and Wise Temple before coming to work for Rockdale. With a background in catering and event management, he is a great asset to the Rockdale community. Ezra loves photography and is often seen at music shows shooting the local musicians. In his spare time, he likes to explore music and catch up on the Reds.
Mon, December 6 2021
2 Tevet 5782
Upcoming Events
Today's Calendar
---
Friday Night
Shabbat Nosh

: 5:45pm
shabbatCTY
: 6:00pm
Shabbat Services with Shir Shalom Choir & celebrating December Anniversaries

: 6:15pm
Shabbat Day
Sichat Torah, Torah Study

: 9:30am
Shabbat Morning Service

: 10:30am
Upcoming Events
---
Hanukkah
View Full Calendar
Mon, December 6 2021 2 Tevet 5782